Menus
Appetizers
COWBOY CHIPS
14
House kettle chips, cheddar, smoked gouda, chopped bacon, scallions, sour cream and pickled jalapenos.
MAPLE BOURBON PORK BELLY LOLLIPOPS
12
Seared crisp, Benton's Sugar Shack maple syrup
ESCARGOT
14
Garlic butter, Swiss cheese, bacon, crispy French baguette
KOREAN BBQ PORK WINGS
20
1LB, sesame seeds, scallion, buttermilk ranch
PRETZEL TWISTS
12
Covered Bridge IPA beer cheese
WHIPPED FETA DIP
12
Hot honey, garlic, chili flakes, warm pita
MEATBALL SKILLET
14
House ground beef, marinara, melted provolone, garlic knots
THAI SHRIMP LETTUCE CUPS
16
Carrot daikon slaw. cilantro, mint, sweet and spicy chili sauce
BUFFALO TENDERS
14
In our house signature sauce with bleu cheese, carrots and celery
MUSHROOM CAPS
12
Mild Italian sausage stuffing and melted Cabot cheddar cheese
CRUZ BAY AHI TUNA BITES
16
Mediterranean rub, seared rare, wasabi dill creme fraiche
PICKLED RED ONION RINGS
13
Triple battered with habanero buttermilk ranch for dipping
Soups & Salads
NEW ENGLAND CLAM CHOWDER
0
CUP 6 BOWL 10
THE GREEK
16
Romaine lettuce, marinated roasted tomatoes, cucumber, mediterranean olives, feta cheese, pepperoncini, classic Greek dressing
GARDEN SALAD BOWL
12
Farm greens, cucumber, tomato, carrot, onion and sweety drop peppers with your choice of dressing
CAESAR SALAD
14
Romaine, croutons, parmesan tuile, lemon garlicy dressing
CHICKEN COBB SALAD
18
Hydroponic greens blend, corn, cucumber, tomato, chopped applewood bacon, avocado, hard boiled egg, bleu cheese, red wine dijon vinaigrette
BLEU MOUNTAIN SALAD
16
Grilled chicken, fresh greens, candied walnuts, dried cranberries, red onion, cucumber, Stilton Bleu cheese and balsamic vinagrette dressing
BUFFALO WEDGE
16
Iceberg Wedge, Bacon, Tomatoes, Red Onion, Fried Buffalo Tenders and Bleu Cheese
Entrees
PORK SCHNITZEL
26
Pounded pork loin breaded and fried, apple cream sauce, spatzel, kraut
HALF DUCK
34
Crispy skin, balsamic caramelized pearl onions, figs over sweet potato mashed, fresh vegetable
BLACKENED CHICKEN ALFREDO
26
Rich parmesan cream sauce, bowtie pasta
BIRRIA POLLO TACOS
24
Pan fried corn tortillas with Oaxaca cheese, chicken braised with chilis and spices then pulled, adobo consome, pickled red onion, cilantro, rice and beans
MAC N CHEESE
16
Cavatappi pasta, Cabot cheese sauce, seasoned crumbs Add: Lobster 12 Buffalo Chicken 6 Bacon 3
GRIOT ak DIRI ak PWA
24
Traditional Haitian dish, plump shrimp, marinated pork chunks, rice, black bean puree, fried plantains and pikliz (spicy pickled slaw)
BOLOGNESE
26
Fresh tagliatelle pasta, a rich meat sauce of beef, pork and veal, splash of cream and parmesan
YANKEE POT ROAST
22
LOCAL BRAISED ROBIE FARM BEEF, SIX HOUR BRAISE, MASHED POTATO, BABY CARROTS, ROOT VEGETABLE
STEAK TIPS
28
Soy-citrus marinade, mashed potato, fresh vegetable
NEW ENGLAND SEAFOOD BAKE
34
Fresh haddock, sea scallops, shrimp & lobster in a sherry cream topped with lemon butter crumbs. Served with rice & fresh vegetable
AHI TUNA BOWL
18
Seared rare and chilled ahi tuna, sushi rice, edamame, grape tomato, cucumber, avocado, seaweed salad, marcona almonds, pickled ginger and sweet soy syrup
BAKED HADDOCK
26
Lemon butter crumbs, jasmine rice and fresh veggies
FISH AND CHIPS
20
A generous portion of fresh Haddock Deep Fried, French Fries, Coleslaw and Tartar
MOROCCAN LAMB SHANKS
26
Slow braise, cous cous, carrots, golden raisins, slivered almonds
MAC N CHEESE
16
Cavatappi pasta and Cabot cheese sauce with crumbs Add lobster $12 Add buffalo chicken $5 Add bacon $3
QUINOA SWEET POTATO CHILI WITH BLACK BEANS
14
Vegan and gluten free with crispy tortilla chips. Add Cheese $2 Add Vegan Parmesan $3
VEGAN BOLOGNESE
18
Fresh pasta, mirepoix, chopped wild mushrooms, marinara, truffle oil, vegan parmesan
PROTEIN ADD ONS
0
GRILLED CHICKEN 7 VEGGIE BURGER 8 BEYOND BURGER (V) 8 GRILLED SHRIMP 10 SEARED SCALLOPS 14 GRILLED STEAK TIPS 12 CHILLED AHI TUNA 12 PORK BELLY 8 BUFF NUGS 6
Sandwiches
VEGAN SLOPPY JOE
16
Ground veggies, beyond beef crumbles, classic sauce, brioche bun
LEM PARKER
15
Grilled chicken, brie, FIRE roasted apples, bacon, fig jam, buttered brioche
PERUVIAN CHICKEN
15
Grilled chicken, pickled red onion, greens, feta, jalapeno aioli, warm pita
TUSCAN CHICKEN SANDWICH
15
Breaded breast, balsamic greens, fresh mozzarella, heirloom tomato, basil aioli
PROSCIUTTO GRILLED CHEESE
15
With basil aioli, fresh mozzarella and oven roasted tomatoes on grilled Tuscan grilled bread
STEAK & CHEESE
15
Shaved steak grilled with mushrooms, onions and American cheese on a sub roll
REUBEN
15
House cured corned beef brisket, sauerkraut, Russian dressing and Swiss on marbled rye
VEGGIE REUBEN
15
Beyond Burger, melted Swiss, Thousand Island dressing, sauerkraut, grilled marble rye
SANDWICH AND BURGER SIDES
0
Fries $2 Steak Fries $3 Kettle Chips $2 Garden Salad $6 Caesar Salad $8 Sweet Potato Puffs $3 Coleslaw $2 Pickled Red Onion Rings $5 Gluten Free Bun $2
Burgers
CHARBROILED BURGER
14
Sourced from Robie Farm, Piermont, NH 6oz. grilled to your liking. (Additional toppings may be subject to extra charge.)
SMASH BURGER
8
4 oz. patty with cheese, griddle seared med-medium well to ensure a serious crust ~ Double~ $12 Triple ~16
THE TOMMY
16
6oz. with bacon, mushrooms, onions, melted Swiss and Bleu cheese
FARMHOUSE BURGER
16
6 oz., bacon, goat cheese, onion jam
VEGGIE BURGER
15
Quinoa, black beans, roasted veggies, sweet potato, chickpea flour, veganaise
BEYOND BURGER
18
A plant-based, lettuce, tomato, onion, veganaise and vegan cheddar
Desserts
CHURROS
10
Powdered sugar, chocolate sauce, Benton's maple syrup
FLOURLESS CHOCOLATE TORTE (GF)
8
Gluten free with whipped cream
MIKE'S DEEP DISH KEYLIME PIE
8
A four time national champion with no fillers & no preservatives
SEA SALT CARAMEL CHEESECAKE
8
With Hershey's caramel topping
VEGAN RASPBERRY-BLUEBERRY CAKE
12
FROM NATE'S VEGAN CAKES WITH OATMILK VANILLA GELATO
Specialty Drinks
CHOCOLATE MARTINI
0
360 Double Chocolate vodka, Sugarlands Dark Chocolate Liqueur and a splash of Baileys
CRAN MULE
0
Deep Eddy cranberry vodke, ginger beer and fresh lime
FARMHOUSE MARGARITA
0
El Mayor Blanco Tequila, our house special with simple syrup & fresh squeezed key lime & oranges
APEROL SPRITZ
0
Aperol, Prosecco and a splash of soda water
SPICY MARGARITA
0
Ghost Pepper Tequila, simple syrup, fresh key lime & oranges, smoked salt rim
MAI TAI
0
Bumbu Rum, lime juice, almond simple syrup, pineapple & orange juices, Goslings floater
ESPRESSO MARTINI
0
Stoli Vanil Vodka, Caffè Borghetti Espresso Liqueur, splash of Baileys
ROASTED TOASTED ALMOND
0
Stoli vodka, Kahlua, DiSaronno Amaretto and milk, shaken
PEMI PAINKILLER
0
Hard Truth Toasted Coconut Rum and fresh mixed juices
Last Updated On: 12/04/2023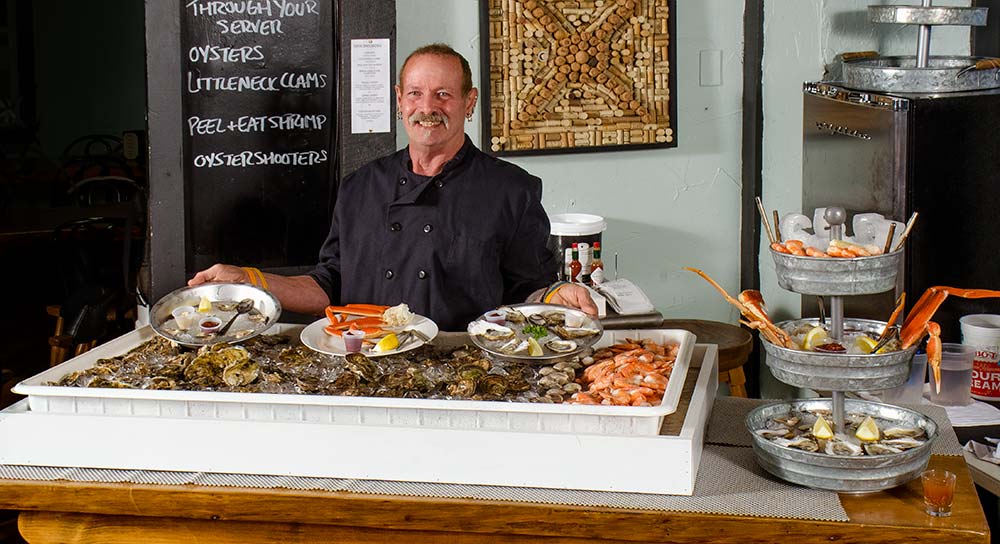 Raw Bar
Little Neck Clams
1.75/piece
Peel & Eat Shrimp
.75/piece
Small Tower
45
6 Oysters, 6 Clams, 6 Peel and Eat Shrimp, and 2 Snow Crab Claw Clusters
Large Tower
85
12 Oysters, 12 Clams, 12 Peel and Eat Shrimp, and 4 Snow Crab Claw Clusters
Oyster Shooters
7 each
Vodka, House Bloody Mary Mix, Tobacco, Lemon, and Cocktail Sauce
Last Updated On: 10/06/2023

We're sorry, but we will not be serving brunch
until further notice.
Prime Rib Hash and Eggs
12
Two Eggs over Grilled Prime Rib Hash with Toast and Home Fries
WE ARE CURRENTLY NOT SERVING SUNDAY BRUNCH UNTIL FURTHER NOTICE
0
Sausage Biscuits and Gravy
11
Grilled Buttermilk Biscuits Topped with Sausage Gravy and one fried egg
Huevos Rancheros
11
Poached eggs over diced and seasoned black beans, fresh pico de gallo, sour cream and smashed avocado
Breakfast Sandwich
8
Two eggs any style with choice of meat on an English muffin with home fries
Farmtable Steak Tips and Eggs
15
Marinated in our house recipe with two eggs any style and red eye gravy
Monte Cristo
12
Sliced Turkey, Ham, and Swiss Cheese Melted Between Two Slices of French Toast, Served with Maple Syrup and Home Fries
Pancakes
9
Plain Blueberry or chocolate chip (add $1) Pancakes with Choice of Bacon, Ham, or Sausage with Home Fries
Custard French Toast
11
Dipped in Cinnamon and Vanilla with Choice of Bacon, Ham, or Sausage and Home Fries
Traditional Eggs Benedict
9
Canadian Bacon and Poached Eggs atop a Grilled English Muffin with Hollandaise and Home Fries
Farmtable Benedict
12
Prime Rib hash, poached eggs and hollandaise
California Benedict
11
Sliced avocado and roasted tomato on Grilled English Muffin with Hollandaise and Home Fries
Italian Benedict
12
Prosciutto, arugula and tomato on on grilled English muffin with hollandaise and poached egg served with home fries
Shaved Steak Benedict
12
Grilled English muffin topped with shaved steak, mushrooms, onions and hollandaise with home fries
Vegetable Frittata
11
Fresh seasonal veggies,diced potatoes and egg finished with melted cheddar, served open faced
Meat Frittata
13
Ham, sausage, bacon, diced potatoes and egg finished with cheddar cheese served openfaced and topped with corned beef hash
Cheese Omelet
8
Cheddar Cheese Omelet with Toast and Home Fries (add Meat and Veggies for an Additional Charge)
El Diablo Omelet
12
Ground chorizo sausage, hint of ghost pepper powder and cheddar cheese. HOT! With toast and Home Fries
Wild Mushroom and Goat Cheese Omelet
13
With choice of toast
Steak Bomb Omelet
12
Shaved steak, cheddar cheese, mushrooms and onions
Last Updated On: 02/17/2022
YOUTH HOCKEY TEAMS
0
WE DO HAVE A PRIVATE ROOM TO HOST YOUR WHOLE TEAM IF NEEDED. PLEASE EMAIL US FOR AVAILABILITY, DETAILS AND PRICING AT FARMTABLENH@GMAIL.COM
INDUSTRY NIGHT IS EVERY MONDAY
0
JOIN US IN THE LOUNGE EVERY MONDAY FOR INDUSTRY NIGHT. BRING IN YOUR CHECK STUB FOR 20% OFF YOU WHOLE BILL FROM 5-9PM. EVERYONE IN HOSPITALITY, SERVERS, BARTENDERS, TEACHERS, NURSES, ETC. LIVE MUSIC WITH MATT SMART AND BENNY BASS
PRIME RIB (FRIDAYS & SATURDAYS - AFTER 4:30)
0
MASHED POTATO, FRESH VEGETABLES, AU JUS KING 38 QUEEN 34
NEW ENGLAND CLAM CHOWDER
0
CUP 5. BOWL 9
SPLIT PEA SOUP WITH HAM
0
CUP 5 BOWL 9
CROCK OF CHILI
9
MELTED CHEDDAR WITH TORTILLA CHIPS
STEAMED LITTLENECK CLAMS
18
FRESH LITTLENECK CLAMS SERVED IN A GARLIC WHITE WINE AND MARINATED TOMATO BROTH SERVED WITH A BAGUETTE
CHICKEN SCARPIELLO
26
STATLER CHICKEN BREAST WITH HOT ITALIAN SAUSAGE AND PEPPERS AND FINGERING POTATOES IN A VINEGARY SWEET AND SOUR SAUCE
TURKEY AVOCADO SANDWICH
14
THICK SLICED ROASTED TURKEY WITH AVOCADO SMEAR, BACON AND MARINATED TOMATOES
CARAMEL VANILLA CRUMBLE CAKE
9
SERVED WITH CARAMEL SAUCE AND WHIPPED CREAM
APPLE DONUT SUNDAY
10
WARM APPLE CIDER DONUT WITH VANILLA ICE CREAM, APPLE PIE AND CARAMEL SAUCE
Last Updated On: 12/09/2023
CHURROS
0
CHOCOLATE SAUCE AND MAPLE SYRUP FOR DIPPING
MIKE'S DEEP DISH KEYLIME PIE
8
A four time national champion with no fillers & no preservatives
SEA SALT CARAMEL CHEESECAKE
8
With Hershey's caramel topping
TIRAMISU GELATO
0
LADY FINGERS AND COFFEE SYRUP
VEGAN RASPBERRY-BLUEBERRY CAKE
0
FROM NATE'S VEGAN CAKES WITH OATMILK VANILLA BEAN GELATO
STRAWBERRY SHORTCAKE
0
ANGEL FOOD CAKE, SWEET STRAWBERRIES AND WHIPPED CREAM
FLOURLESS CHOCOLATE TORTE
8
Gluten free with raspberry sauce
Last Updated On: 06/29/2023
White Wine
Glass
Bottle
CAPOSALDO PROSECCO, ITALY
9
-
Aromas are fruity with citrus, green apple & acacia flowers; pleasant acidity freshness & full body.
BARTENURA MOSCATO, ITALY
9
36
Slightly effervescent with notes of wildflowers, ripe melons, & honey followed by pear, nectarines & apricot.
BONTERRA SAUVIGNON BLANC, CALIFORNIA
8.5
32
Flavors of grapefruit, lime zest & grass that closes with flavors of melon & a nice tart finish.
KIM CRAWFORD SAUVIGNON BLANC, NEW ZEALAND
9
34
Flavors of grapefruit, citrus, pear, lime & juniper.
BANFI SAN ANGELO PINOT GRIGIO, ITALY
10
38
Fresh bouquet with notes of pear, peach, anise & honey, leading to a fruity, crisp, refreshing finish.
DELOACH ESTATE CHARDONNAY, CALIFORNIA
8
30
Tropical Flavors of pineapple, papaya, & mango with a long finish that compliments a wide variety of cuisines.
SONOMA-CUTRER CHARDONNAY, RUSSIAN RIVER VALLEY
12.50
48
Aromas of Fuji apple, fresh roses, lime, lemon blossom & nectarine, complemented by touches of nougat & baking spices.
SIMI CHARDONNAY, SONOMA
11
42
Expressive notes of baked apples, spritz of citrus & a touch of shortbread.
FIRESTEED PINOT NOIR, OREGON
10
38
Aromas of supple red cherries & mocha with a hint of maple syrup.
---
Red Wine
Glass
Bottle
RUFFINO SPARKLING ROSE
9
34
Fresh & fragrant with notes of strawberry & hints of rose petals.
MEIOMI PINOT NOIR, CALIFORNIA
11
42
Aromas & flavors of strawberry, dark cherry, jam, blackberry & boysenberry with mocha, vanilla & toasty oak notes.
BANFI CHIANTI CLASSICO RISERVA, TOSCANA ITALY
11.5
44
Notes of plum, blackberry jam, & spicy hints of liquorice, vanilla & leather.
BODEGA NORTON RSV MALBEC, MENDOZA
9
34
An expressive wine with ripe black fruits, violets, spices & tobacco.
B.R. COHN SILVER LABEL CABERNET SAUVIGNON, SONOMA
11
42
Aromas of Cassis, black cherry, mint, that combine with a bouquet of oak, anise & warm vanilla.
OBERON CABERNET SAUVIGNON, CALIFORNIA
15.5
60
Supple silky tannins & vibrant black cherry, candied blackberry & spices with a hint of coffee & dark chocolate.
THE PRISONER RED BLEND, CALIFORNIA
80
A blend of Zinfandel, Cabernet Sauvignon, Petit Syrah & Charbono. Wildly feral on the nose with rich dark baked fruits, chocolate & vanilla.
RAYMOND CABERNET, NAPA
100
Baked plum, blueberry & elderberry flavors which coat the palate delightfully.
Last Updated On: 08/29/2023