The Country Cow is now Covered Bridge Farm Table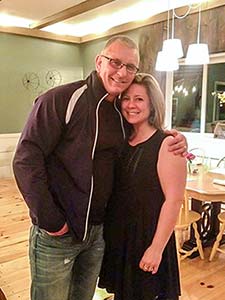 As a result of the show co owners Jennifer Leonzi and Head Chef Kerry Benton dissolved their partnership and Jennifer became sole proprietor. With the large task of owning and operating the front and back of the house Jennifer enrolled in Chez Boucher Culinary Center in Hampton, NH. An intensive 12 week program that consisted of hands on culinary training, proper food handling, preparation and cost. Along with a fresh new look to the building inside and now outside many new changes are underway as The Country Cow transitioned to The Covered Bridge Farm Table in mid May of 2016. Jennifer's vision is to take the restaurant back to its roots, "The Covered Bridge Restaurant" as its original owners did in 1978, connecting the restaurant to the historic Blair covered bridge adjacent to the property.
Along with the new identity came a new menu featuring "Fresh Fusion."
A Farm to Table attitude infused with Asian, French and Italian cuisines as well as traditional selections and old favorites. The menu also showcases locally farmed products as well as fresh produce from the Covered Bridge Farm Table sourced on site. Although it is not strictly "Farm to Table," the goal is to provide the freshest product possibly available at different times of the year. Jennifer has worked closely with The Farm in Campton the last couple summers to fine tune her customers needs and hand pick the freshest veggies daily, especially in the summer months. All natural Northeast raised ground beef is used for burgers as well as Vermont grown Pork. Our chicken is all natural containing no hormones, antibiotics or additives. Our seafood is delivered just about daily fresh, from the docks of New Hampshire and Massachusetts's Atlantic ocean.
In 2019 Robert Irvine and his team at Restaurant Impossible revisited a handful of restaurants that originally appeared on their show to discuss their success and the Covered Bridge was one of them. The show aired in July of 2019 and is still going strong!
With all of the changes The Covered Bridge Farm Table will still offer the same relaxed comfortable atmosphere and friendly service.
Functions can be booked in the dining room, function room or off site for your special event. We look forward to seeing you at The Covered Bridge.